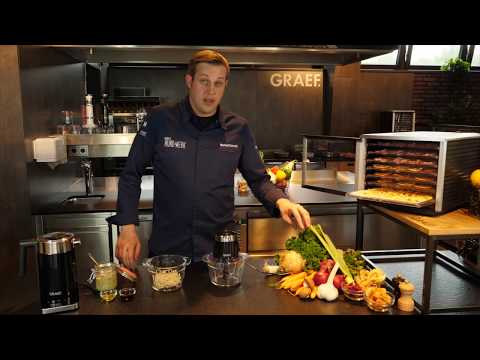 Dehydrator DA510 Multi-Set
Chopper CH501, Silicone mat (3 pcs.) & Stainless steel tray set (3 pcs.)
€ 391.96
incl. VAT and plus shipping costs
Standard shipping items –
Germany: € 0.00
Czech Republic, France, Italy, Belgium, Denmark, Netherlands, Austria, Luxembourg: € 12.90 /
other countries: € 16.90
CHEF'S LINE
Indispensable helpers for the ambitious kitchen. With these appliances, everyone can go on a hunt for aromas and discover surprising flavours.
Display for timer and temperature
Via the display on the top of the dehydrator, you can easily adjust the temperature from 30°C to 70° C and the timer up to 40 hours.
Dieses Set enthält folgende GRAEF Produkte:
1x Dörrautomat DA510
1x Zerkleinerer CH501
3x Dörrfolie aus Silikon
1x 3er Set Dörrgitter aus Edelstahl
Dörrautomat DA510:
Bewusste, gesunde Ernährung und nachhaltiger Umgang mit Lebensmitteln
Obst, Gemüse oder Kräuter aus dem eigenen Garten haltbar machen
Gleichmäßige Wärmeverteilung durch einen Ventilator, ein Heizelement und ein Thermostat an der Rückseite
Kompakt, schnell und energiesparend
Dörrfläche 1,08 m²
Dry Balance Technology'zur gleichmäßigen Trocknung unterschiedlicher Lebensmittel
inkl. 10 Kunststoff-Dörrgitter (295 x 365 mm, BPA frei)
Zur Trocknung und Erstellung von Fisch, Obst, Gemüse, Kräutern, Beef Jerkys , Joghurt & Tierleckerlies
Rezeptbuch und Silikonmatte
Zerkleinerer CH501:
Schnell und effizient durch vierflügeliges Edelstahlmesser
Kraftvoller 500 Watt Motor
schneiden und mixen von Lebensmitteln (auch für die Zubereitung von Babynahrung geeignet)
Ideal zum Hacken
Hochwertiger Zerkleinerungsbehälter aus Glas mit 1,0 Liter Fassungsvermögen (spülmaschinengeeignet)
Einfache Einhand-Puls-Bedienung
3er Set Dörrfolie aus Silikon und 3er Set Dörrgitter aus Edelstahl können Sie für folgende GRAEF Produkte nutzen: :
Dörrautomat DA506
Dörrautomat DA508
Dörrautomat DA510