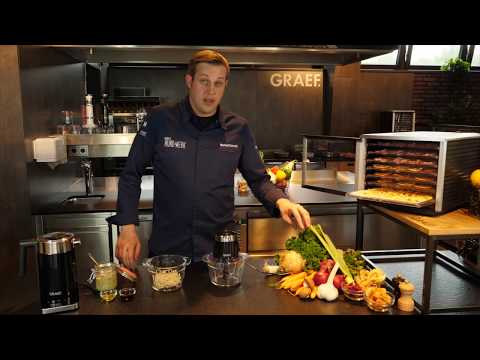 Dehydrator DA508
with 8 slots
8 slots for 8 large plastic dehydrating trays (BPA-free)
Dehydrating surface: 0.84 m²
GRAEF dehydrators for healthy, natural and sustainable snacks, chips, toppings, nuts, herbs or even animal treats
The well-designed tray system means that even taller containers will fit easily into the dehydrator – e.g. for home-made yoghurt
High-quality plastic housing
Practical display for monitoring the timer and temperature
Dry-Balance technology – for the balanced drying of different foods
Even heat distribution for optimum hydrating results
Adjustable temperature from 30 °C to 70 °C
40-hour timer
Accessories: Recipe book and silicone mat
Power: 230 V, 630 watts, 50 Hz
€ 219.99
incl. VAT and plus shipping costs
Standard –
Germany: € 0.00
Czech Republic, France, Italy, Belgium, Denmark, Netherlands, Austria, Luxembourg: € 12.90 /
other countries: € 16.90
FAMILY LINE
Suitable for large and small families. Childproof, easy to use and time-saving.
Display for timer and temperature
Via the display on the top of the dehydrator, you can easily adjust the temperature from 30°C to 70° C and the timer up to 40 hours.
Drawer-design
The drawer-design is another key benefit of the Graef dehydrators: As in an oven, the included trays can comfortably be removed to the front, loaded and reinserted into the dehydrator in different positions (depending on the food and amount to be dehydrated). The trays of the DA500-series are bpa-free, have a size of 295 x 365 mm and are dishwasher-safe.
Dry Balance Technology
Inside the dehydrator, the Dry Balance Technology lets the temperature constantly fluctuate by +/- 5° C. Due to this technique all food gets evenly dehydrated. The temperature always stays high enough to dehydrate fast, and low enough to preserve enzymes, vitamins and other valuable nutrients