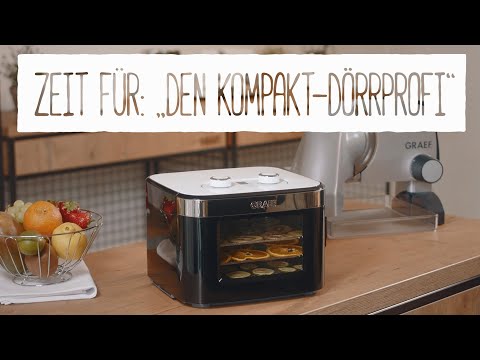 Mini-Dehydrator DA2042
The compact dehydration-Professional
Compact mini-dehydrator for healthy, natural and sustainable snacks, chips, toppings or even animal treats
The well-designed tray system means that even slightly taller containers will fit easily into the dehydrator – e.g. for home-made yoghurt
3D dehydration technology: the heating element and fan at the back of the appliance create even air circulation and optimum dehydration results
Metal lining on the inside – for optimum heat distribution and energy-efficient dehydrating
Double-walled, heat-insulated housing
Practical display for monitoring the timer and temperature
Temperature from 35 °C to 80 °C, adjustable in 5 °C increments
24-hour timer
4 stainless steel dehydrating grilles for easy removal and insertion at different levels
0.18 m² dehydrating area
Automatic cooling function at the end of the dehydrating process
Safety shut-off and overheating protection
Compact dimensions: D 29 cm x W 27.2 cm x H 21 cm
Power: 400 watt, low energy consumption
€ 129.99
incl. VAT and plus shipping costs
Standard –
Germany: € 0.00
Czech Republic, France, Italy, Belgium, Denmark, Netherlands, Austria, Luxembourg: € 12.90 /
other countries: € 16.90
YOUNG LINE
Thanks to their compact design, the products find space even in the smallest kitchens. The functions are simple and the appliances are suitable for beginners.
Display for timer and temperature
Intuitive and simple operation.
24 hours Timer
Due to the adjustable running time of up to 24 hours, the device dries fruits, vegetables, meat, fish, nuts and much more
3D-drying technology
Heating element and fan on the back ensure optimal drying results
Adjustable temperatures
The automatic dryer can be set to the optimum temperature between 35° and 80° C for each dried product.
Digital temperature
Monitoring for an even drying result and optimal heat distribution
Easy cleaning
The device can be easily cleaned after use.
4 stainless steel trays
Four stainless steel grids that allow different foods to be dried simultaneously but separately.