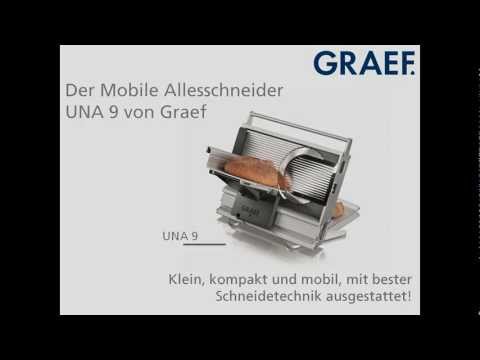 Mobile Slicer UNA90
Portable and space-saving
Fold to store: the UNA 90
Foldable and stable: the aluminium carriage and feet
Compact and mobile
Compact, mobile metal inclined slicer with hard anodised aluminium surfaces
Foldable for storage in drawers or kitchen cupboards, it can even be hung up
Serrated stainless steel blade, Ø 170 mm – cuts effortlessly through hard crusts
Slicing thickness adjustment: 0–15 mm
Efficient 45-watt energy-saving motor (170 watt peak power)
Quick-action and continuous operation switch: the blade rotates continuously or cut-by-cut
Stainless steel blade cover plate – for less friction and easier slicing
Rapid cleaning in a few easy steps
€ 399.99
incl. VAT and plus shipping costs
Standard shipping items –
Germany: € 0.00
Czech Republic, France, Italy, Belgium, Denmark, Netherlands, Austria, Luxembourg: € 12.90 /
other countries: € 16.90
Easy cutting
Through the inner lying steel blade cover only the outer edge of the blade is accessible and guarantees the best cutting results because of low resistance.
Energy-saving motor (45 - 170 W)
45 watt energy-saving motor with a cutting capacity of up to 170 watts
Ø 170 mm stainless serrated steel blade
Stainless steel blade, serrated, Ø 170 mm. Bread varieties of all kinds, harder cheeses, vegetables and cold cuts can be cut easily.