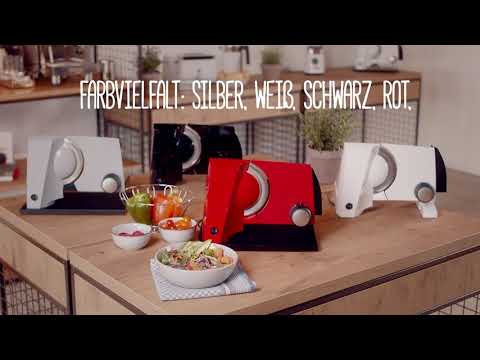 Slicer SKS 110, black
incl. MiniSlice attachment
Free gift included: Mini-Slice attachment
Compact metal slicer with small footprint, for kitchens of every size
Serrated stainless steel blade, Ø 170 mm – even cuts through hard crusts
Infinitely adjustable slicing thickness, 0–20 mm
Efficient 45-watt energy-saving motor (Eco Power Motion, 170 watt peak power)
Practical permanent function via on/off switch
Blade cover – for less friction and easier slicing
Stable and smooth-running carriage with child lock
Easy to use
Quick cleaning thanks to the safety catch
€ 149.99
incl. VAT and plus shipping costs
Standard shipping items –
Germany: € 0.00
Czech Republic, France, Italy, Belgium, Denmark, Netherlands, Austria, Luxembourg: € 12.90 /
Ireland: € 19.90 /
other countries: € 16.90
YOUNG LINE
Thanks to their compact design, the products find space even in the smallest kitchens. The functions are simple and the appliances are suitable for beginners.
MiniSlice Attachment
Now included! - the MiniSlice attachment free of charge with this universal slicer. With this popular accessory, even the smallest of foods such as radishes, cherry tomatoes or even cucumbers can be sliced completely into wafer-thin slices.
Ø 170 mm serrated blade made out of stainless steel made in Germany
Effortless cutting
With the knife of the food slicer, you can effortlessly cut through breads of all kinds, harder cheeses, many vegetables and cold cuts.
Blade covering plate for perfect slicing results
On / off switch
The On-/Off-switch is positioned at the front of the carriage-guidance and is therefore easily accessible.
Energy-saving motor 45 watts with a peak slicing power of 170 watts
This slicer has a 45-watt energy-saving motor with a peak slicing power of up to 170 watts. Cut energy-saving – without having to dispense the proven performance of a GRAEF machine.