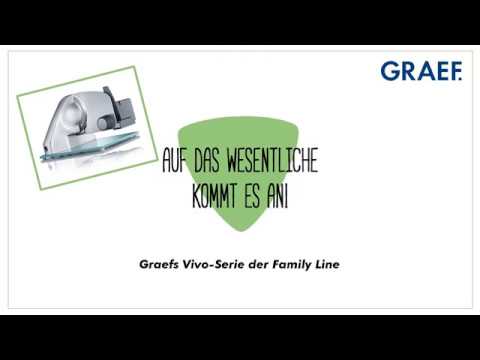 Slicer Vivo V20, silver
incl. MiniSlice attachment
Free gift included: Mini-Slice attachment
Solid mid-range segment universal cutter
Intelligent, fery quiet energy-saving motor
Bladecover plate for simple slice
Serrated stainless steel blade, ideal for bread, sausage or cheese
€ 229.99
incl. VAT and plus shipping costs
Standard shipping items –
Germany: € 0.00
Czech Republic, France, Italy, Belgium, Denmark, Netherlands, Austria, Luxembourg: € 12.90 /
Ireland: € 19.90 /
other countries: € 16.90
FAMILY LINE
Suitable for large and small families. Childproof, easy to use and time-saving.
MiniSlice Attachment
Now included! - the MiniSlice attachment free of charge with this universal slicer. With this popular accessory, even the smallest of foods such as radishes, cherry tomatoes or even cucumbers can be sliced completely into wafer-thin slices.
Energy saving motor
Powerful motor
The high-performance, whisper-quiet and maintenance-free 170 Watts capacitor motor guarantees best cutting results due to its constant motor speed.
Ø 170 mm serrated blade made out of stainless steel made in Germany
Off-/On-switch
The on/off switch with intelligent motor management on the lower motor body enables easy operation at the push of a button and offers maximum safety due to the distance to the knife.
Knife covering plate
For easy cleaning after use, quick knife removal is possible via the removable knife cover plate and the quick-lock system on the knife.
Child lock
The carriage can be locked into place in front of the blade for the protection of children.