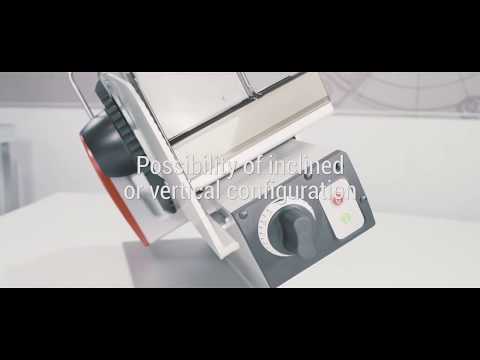 Concept 30
Wonderfully versatile
Individually adaptable thanks to the modular system
Compact L design offers maximum slicing capacity in a narrow area.
Stable, narrow work area
High-quality all-rounder for restaurants, deli counters and the like, available as a vertical and gravity slicer
Unbreakable and chemical-resistant plastics
Special smooth high-performance blade, Ø 250–300 mm (depending on the model)
Precise and infinitely adjustable slicing thickness, 0–20 mm
300-watt hybrid motor with gear and belt drive
Suitable for continuous operation
Efficient engine cooling system
Safe and waterproof switch technology of the latest generation
Blade cover plate – for less friction and easier slicing
Fast cleaning due to the smooth, freely accessible surfaces and removable hygiene-related parts
Product inquiry
Cooling Power
Whether in ad hoc or continuous operation, the Concept machines perform their work consistently and powerfully, yet quietly. Without ever overheating. The efficient motor cooling system with its generous slots makes sure of this.Fresh goods remain cool and cheese or ham don't melt away.
Cut everything
The narrow motor body, the removable blade scraper and the closed blade cover plate make the Concept in combination with the high performance hard chromed blade to a real all purpose slicer.
Fast cleaning
Generous spacing between blade and housing, the stop plate with juice groove, the easy detachable scraper and coverplate and the carriage which can be tilted by 90° make the cleaning more than fast.
Just one movement
One easy step and the blade cover plate is detached. Then there is nothing left in the way of the cleaning cloth.
Performance and technology
The motor features a hybrid drive that works with a combination of worm and belt drives so as to ensure that the blade slices even the hardest product to be cut.
Wiping possible
Cloths love large gaps.
Accessories
Special oil and a two-step blade sharpener. The sharpener can be mounted and operated very easy. As it is not firmly attached to the machine, it is protected against soiling.
Compact and powerful
Thanks to their L-shaped layout, the machines can be freely combined with a wide range of accessories:: whether it's kitchen utensils such as trays, chopping boards, kitchen scales, gastronorm containers or counter aids such as sales scales, paper boxes etc. According to the motto: "no need to hide", the motor cover is now also available in red, black and white.